Uncle Dennis the Coach Driver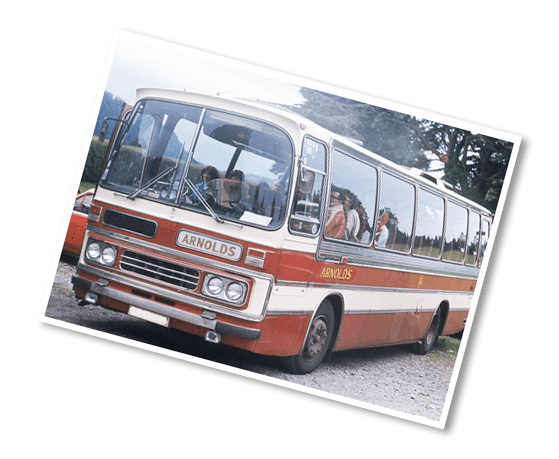 Uncle Dennis, he drove a taxi,
It was so fast, an Austin Maxi.
He wore glasses and a beard,
Looked like Rolf Harris, just not so weird.
He drove a coach, 53 seats,
It had ashtrays, it was the old days.
I left for school I was late,
Missed my cornflakes, half-past eight.
Missed the coach, sauntered home,
Took the short cut, all alone.
Outside the house, there was a coach,
53 seats, bigger than most.
Went inside, my Mum and Dennis,
Undone trousers, he had aroused her.
Uncle Dennis, where are you now?
With my Mother, the silly cow.
Edward says...
Aahh! Uncle Dennis, Uncle Dennis, Uncle Dennis. Remember as kids how family friends were often called Aunty or Uncle even though they were nothing of the sort? They'd bring Easter eggs, birthday and Christmas presents, all was fun, fun, fun. Well, Uncle Dennis was one of those. I haven't got a clue where or when the family first came across Dennis but he was around for as long as I could remember. I first remember him as a taxi driver and having an Austin Cambridge estate, he then moved on to become a coach driver and as I had to go to school about 20 miles away, he often drove me to school. Well, well, well. One day I was late for school and if I didn't run I'd miss the coach which went from outside a vicarage about half-a-mile away. I remember racing down the hill, round one corner, then another only to see the back-end of the bus crawling up the hill on it's way to pick up the next bunch of miserable school kids. Pissed off I sauntered back home, wondering how I'd explain to my dear Mother how I'd missed the coach. Just as I was approaching home, I lifted up my deflated chin only to see another enormous, 53-seater coach parked outside our house. How strange! I went into the house, opened the living room door, only to see Uncle Dennis there with my Mother "in flagrante delicto" - I'll say no more! Look it up! Uncle Dennis was never the same again. Edward
Share this poem...