Pennies from Heaven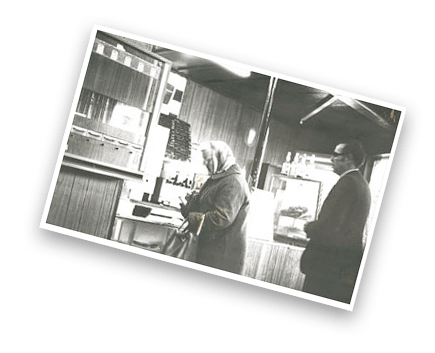 Your whole world carried in worn trouser pockets,
from café to café you spend small change,
on cup after cup, after cup,
of luke warm tea.
Your cupboards are bare, kettle barely warm,
you shiver at night between nylon sheets,
you sit naked, naked,
in your dimly lit room.
Quietly you walk with a permanent smile,
while people are sniggering behind your back,
while people laugh,
behind your back.
You find a box with pennies in Gods house,
the world of polished oak.
You rush out, out,
and proudly you shout.
"Pennies from Heaven", you shout.
Edward says...
At the end of the 1970s and early 1980s I spent a long time unemployed and generally spent a pretty miserable existence. I had a daily routine of moving from cafe to cafe in Tamworth, England. Starting off at the Bus Station Cafe where Aunty Betty would give me a free sausage and egg sandwich and cup of tea for going and collecting her sausages from the Co-op butchers. As it's name suggests this cafe was always filled with bus drivers and conductors having a break between trips. Then it would be to the Monica Milk Bar, a place that had never changed since its hey day in the 1960s, same decor, same staff, same records on the juke box. Tea from here was always too milky and in a glass cup and saucer. While sitting in these cafes I'd be writing poetry. Then it was on to Hindleys in the Lower Gungate precinct where sometimes I'd have a bowl of tomato soup and a bread roll - delicious. Finally, I'd spend the rest of the day in the Arts Centre coffee bar - this was my refuge, escape from the real world and free coffee from Dave Armour. During this time (as I still am today) I was a rampant anti-religionist especially towards the Roman Catholic religion. Hence the final verse, me sticking two fingers up to the hypocritical, abusing, money-clad men of the cloth.
Share this poem...