A Day Trip to the Seaside with my Beach Ball and Swimming Trunks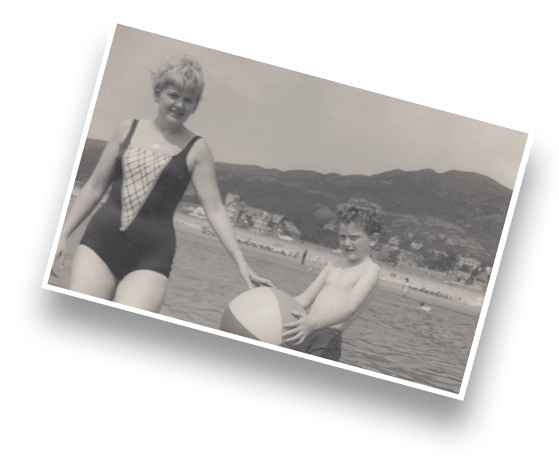 Everyone gets up at 4.30,
I wonder why when we don't go 'til 7.
Everything's packed, the car's overloaded.
I squeeze in with my ugly pubescent sister,
with all her summer dresses.
Mums crisps and salad cobs,
Dads four hundred Embassys,
and me and my beach ball and swimming trunks.
We're off, on our way, nothing's forgotten.
"How far is it now Dad?"
"Shut up I'm driving,
just sit there and hold your beach ball and swimming trunks".
We stop off in a lay-by, the cobs are like rubber.
The tea out of the flask tastes plastic.
I watch as my Dad boldly throws the dregs in the hedge,
I try it myself and see most of it end up on my sisters' legs.
My Mum hits me and says,
"Just behave yourself, and hold your beach ball and swimming trunks".
We're there, rush out and run on the sand,
make sand castles and skim stones,
while my Dad looks for dirty books and postcards.
I collect the shells and pebbles,
as my sister flaunts her flat chest, through her nylon vest.
At last I'm playing with my beach ball and wearing my swimming trunks.
I'd ask my Dad to play football, but he's probably sleeping.
I'd ask him why I've got some swimming trunks when I can't swim,
but he's probably peeping at the women, changing behind, big, stripy, towels.
Edward says...
Nothing more, nothing less than a tale of the typical family holiday in the late 1960s, early 1970s. A second-hand Austin 1100, filled to the brim with almost the entire families belongings. Two excitable, irritable kids in the back, Mum and Dad arguing in the front. There were no service stations on the A5 to Wales, so you stopped off in a lay-by, you couldn't afford to buy takeaway food anyway so it was warm cheese cobs, tea and a packet of crisps with the little blue packet of salt inside. It was always Wales. Tenby, Towyn, Aderdovey Shell Island, borrowing a caravan for a week. No such thing as sun tan lotion, no bottles of wine, no TV in the tiny caravan, just white skin, swimming trunks, rock pools and jelly fish. Edward
Share this poem...