The End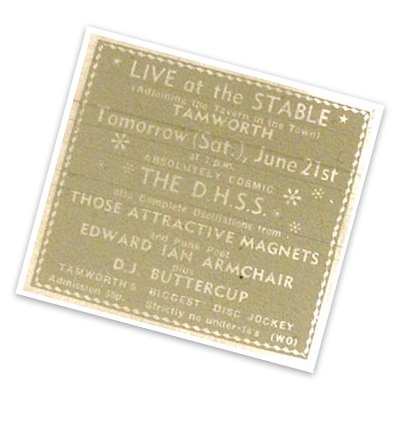 I walked into a lonely room
and saw the lonely people
and suddenly...
Edward says...
It was June, 1980. I had been a singer in punk bands for three years, but as bands do, they have good times, bad times, split up, form again in different guises and the merry-go-round continues. At this time I was without a band and had decided to carry on as a performance punk poet instead and this was my first gig. I was supporting two bands made up of former colleagues who I was still close to, so a splendid night was guaranteed for all. But...something was wrong. I'd spent the day walking around town alone with my marbled notepad of poems in my pocket, fully prepared to do the gig, but it was strange. There was no soundcheck to go to, no camaraderie, I could hear the bands tuning up, the venue was called The Stable and was outside, it was going to be loud. It was getting near to gig time, the place was packed. I was all geared up to do the gig. I'm on. A round of applause. Microphone's waiting. Walk up to it. Get my marbled notepad out of my pocket. But then, I still don't know why to this day, all I said was: "Hello, this one's called The End. I walked into a lonely room and saw the lonely people. And suddenly...Thankyou, goodnight." Then I just walked back through the crowd, into the pub, people were applauding. I went outside and walked home. Strange! Edward
Share this poem...